Smile Touch-Up; Minor Fixes, Major Benefits
We designed our Smile Touch-Up program to offer orthodontic treatment options to a wide variety of patient needs. From small cosmetic enhancements to patients who previously had braces but didn't wear their retainer, our Smile Touch-Up is for you!
With our Smile Touch-Up Program we will work with you to address the elements of your smile that are most important to you. That means you can have the results you are looking for in as few as 6 months and at a lower cost than comprehensive treatment.
While we do offer full orthodontic treatment for adults at our practice, we find that many just don't want to make that commitment. Whether it's financial or time restraints, our Smile Touch-Up is a great option.
Learn about our different treatment levels: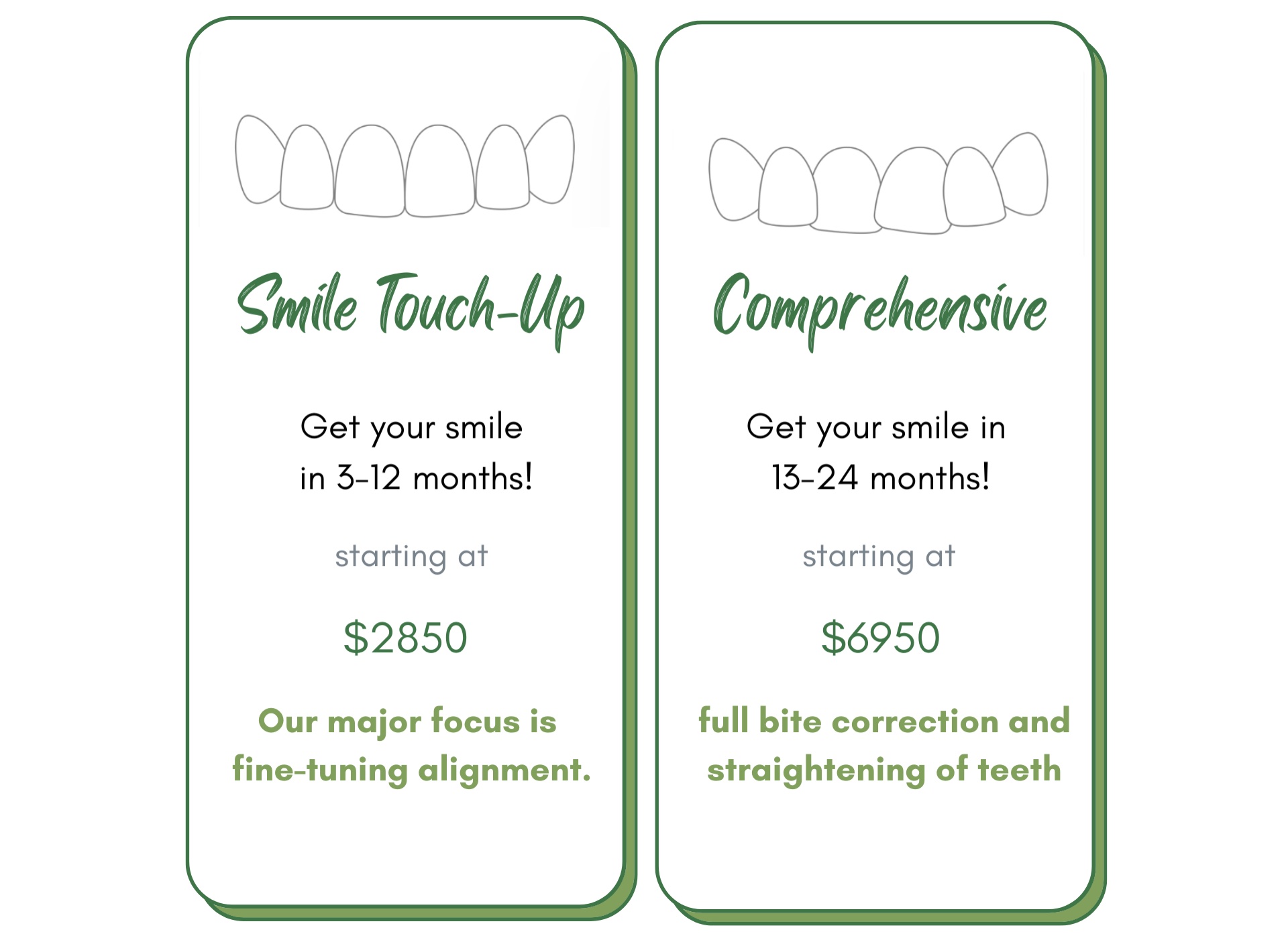 Who is a good candidate for a smile Touch-Up?
Adult patients
Patients who are only looking for a few cosmetic improvements to their smile
Patients who previously had orthodontic treatment but didn't wear their retainer
Patients who are happy with their bite function
Pros of Smile Touch-Up:
Short treatment times (typically 6-12 months)
Budget friendly
High level of care and personalized attention from Dr. Nizam and the Impressions Orthodontics team
Available for braces and Invisalign
No Obstacles
The process to get started is simple. Our team makes your smile journey as seamless as possible. We strive for clinical excellence in a friendly and welcoming environment. We appreciate that you have a busy schedule and will make sure to have you in and out as quickly as possible. We have several payment plans to suit different budgets such as flexible monthly payment options (as low as $150 a month) and down payments (as low as $500).
You're not alone
Adults are getting braces more than ever before. The American Association of Orthodontists (AAO) says that adults are getting orthodontic treatment in record numbers, and not all of them for the first time either. Not only that, patients are reporting that after treatment they feel better about themselves and their social lives. Most would recommend seeking out treatment for other adults.
CLICK BELOW OR CALL US TODAY FOR A COMPLIMENTARY CONSULTATION
Call us today or click below to schedule a free consultation:
GET STARTED
See an Expert
Dr. Nadia Nizam is an orthodontist in Calgary, Alberta, who specializes in creating beautiful smiles for all ages. Dr. Nizam obtained her Doctor of Dental Surgery degree with Distinction from Dalhousie University, Halifax (2003) and her Master of Clinical Dentistry in Orthodontics from the University of Western Ontario, London (2009). Before starting her orthodontic career, Dr. Nizam was a Captain in the Canadian Army, stationed in Kingston, Ontario.